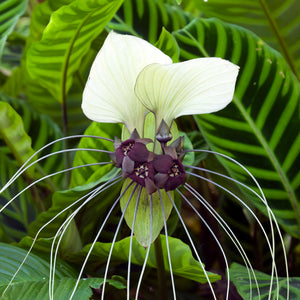 Easy Grow Seeds
White Bat Lily Tropical Flower Seeds
Regular price
$8.00
$0.00
Unit price
per
Tax included.
Shipping
calculated at checkout.
10 Tacca Niveum seeds. Take planting inspiration from the rainforest floor with this remarkable tropical plant, Tacca chantrieri 'Nivea'. Also known as white 'Bat Flower' plant, the bizarrely beautiful blooms are almost unbelievable, with two white wing-like bracts which top a cluster of deep burgundy flowers, then the most notable characteristic which is the streams of long silvery 'whiskers' which cascade down to the leaves like waterfalls!

This mind-blowing white bat flower plant loves a warm environment, so it's a good one to show off in your home or conservatory. Even when it's not in bloom, the large, long glossy leaves make quite the impact as a house plant. Adapted to rainforest conditions, along with mild temperatures it also enjoys a humus-rich soil and plenty of moisture. To recreate humidity, it's happy with a regular misting. If you'd like to incorporate Tacca chantrieri 'Nivea' into an outdoor tropical planting scheme, during the summer months you can let it loose in a shaded, sheltered part of the garden.


These seeds come with an option of Eco Packaging - Find out more. 

| | |
| --- | --- |
| Sow Outside | April-September |
| Sow Inside | Anytime |

Growing Instructions
Perennial, use a good potting soil that has been pre-moistened and plant seeds in a 2 inch (5 cm.) pot so they don't need to be moved right away. Tacca plants do not seem to like to be transplanted and will take a while to recover. You may also choose to make your own mixture. A good planting medium is 10% sand, 40% peat moss, and 50% fine bark. Seeds don't need any stratification or scarification to germinate, though soaking the seed in water overnight may help enhance germination. What they do need is time. Germination times run from a couple of weeks to several months. They also need evenly moist soil but not soggy media. Use a clear cover over the pot to conserve moisture but remove it daily to release excess that will build up and can cause damping off. The last important ingredient to successful bat flower seed germination is heat. A heated soil mat to keep the bottom of the medium warm will greatly improve your chances of seeing a little sprout.

---