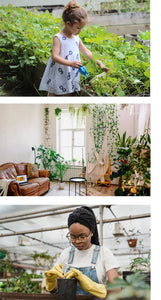 Organic Quality Vegetable, Rare Flower, Microgreen and Tropical Plant Seeds are our Passion
Easy Grow Seeds provide quality, organic vegetable, salad and herb seeds to self sufficiency enthusiasts, families, farmers, hobbyists and homesteaders around the world. We are also one of the leading microgreen seed and sprout seed suppliers, known for providing organic and high quality microgreen seeds with a naturally high germination rate. Our Tropical Plant Seed collection offers species and rarities to delight any houseplant enthusiast and our traditional and exotic rare flower seeds help brighten up gardens around the world. A family business based in the UK, supplying seeds worldwide, Easy Grow Seeds aim is to help educate, enable, empower and inspire everybody to enjoy the art and beauty of growing your own plants, whether your aim is to start a new hobby, become self sufficient, start a small holding, start a farm, educate your children or bring people together in a natural and productive way...we are here to help!
Seed Blog
Houseplants have become a delightful trend, bringing nature's touch and vibrant beauty into our homes. While nurturing these green companions can be a rewarding experience, many plant enthusiasts encounter common...