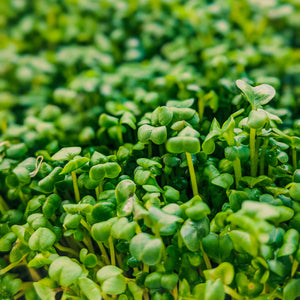 Easy Grow Seeds
Radish Daikon Microgreen Seeds
Regular price
$6.00
$0.00
Unit price
per
Tax included.
Shipping
calculated at checkout.
2000 Radish seeds. Daikon Radish is a green crop with an intense radish flavour great in any microgreen salad or full sized salad. Daikon is one of the most popular radishes to sprout as well. Use instead of sliced radish anywhere you would normally use radish. Radish greens have a pleasant peppery bite, whether raw or cooked.

These seeds come with an option of Eco Packaging - Find out more. 

Growing Instructions
How to Grow Once Soaked for 1-2hrs minimum:
Cover the bottom of the container with an inch or two of moistened potting soil or mix. Flatten and level it with your hand or a small piece of cardboard, taking care not to over-compress the soil.
Scatter seeds evenly on top of the soil. Press gently into the soil using your hand.
Cover the seeds with a thin layer of soil. Cover the container with a clear lid or plastic wrap until the seeds are sprouted.
While waiting for sprouts to appear, usually within two days, use the mister once or twice daily to keep the soil moist but not wet.
Once seeds have sprouted, remove the cover (if you've used one) and continue to mist once or twice a day. Microgreens should be ready to eat in under 6-8 days! 
---