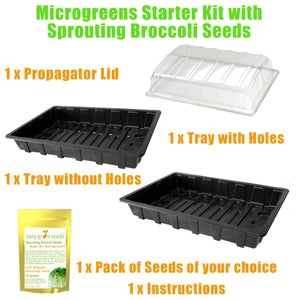 Easy Grow Seeds
Microgreen Starter Kit
Regular price
$22.00
$0.00
Unit price
per
Tax included.
Shipping
calculated at checkout.
Microgreens Starter Kit with Sprouting Microgreen Seeds of your choice - All You Need is Soil!

Included:- 1 x Tray with Drainage Holes, 1 x Tray without Holes, 1 x Propagator Lid, 1 x Pack of Sprouting Microgreen Seeds & Easy to Follow Instructions.

Tray with holes sits inside the tray without holes and the lid goes on top.

All you need to add is some soil, ideally a nutrient rich compost.

The internal dimensions of each tray are 34.4cm x 21.2cm x 5.2cm (high quality heavyweight 85mm thick recycled plastic).

Microgreens & Sprouts
Each tray can be stacked on top of each other to create a bottom feed/watering system with the drainage
hole tray stacked on top of the tray without holes the lid then goes on top. This method is an incredibly effective way of growing
healthy plants quickly and easily. Add water to the bottom tray, and the plants will take what they need
as and when.

All made from 100% recycled plastic.
---