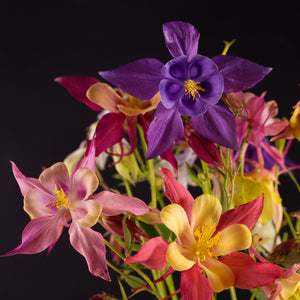 Easy Grow Seeds
Aquilegia Mckana Giant Hybrid Mixed Columbine Flower Seeds
Regular price
$4.00
$0.00
Unit price
per
Tax included.
Shipping
calculated at checkout.
105 aquilegia seeds. Aquilegia caerulea (Ranunculaceae) The blooms of McKana's Giant Mixed have elegant long 'spurs' which add to their charm. Aquilegia is an easy-to-grow hardy perennial which flowers for the first time in the year after sowing and in subsequent summers.

These seeds come with an option of Eco Packaging - Find out more. 


Growing Instructions
Perennial, flowering naturally from April to July, under cover around a month sooner. Sow April-July, cover seed lightly with vermiculite, germinates 2-3 weeks at 15-20°C. 1m height.
---