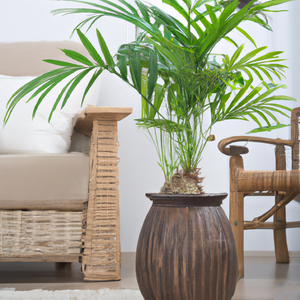 Easy Grow Seeds
Areca Palm Tree Dypsis Lutescens Houseplant Seeds
Regular price
$9.00
$0.00
Unit price
per
Tax included.
Shipping
calculated at checkout.
15 Areca Palm seeds. If you're looking to add a tropical vibe to your home, nothing beats a palm plant. Though palm trees have limited outdoor ranges, once you look for them, you'll start noticing areca palms in interiors everywhere, from offices to shopping malls. They're easy to grow, and their lush foliage even helps remove some toxins from the air. It's no wonder they're popular!

These seeds come with an option of Eco Packaging - Find out more. 


Growing Instructions
Soak seeds for up to 1 week until the outer shell softens, use well-draining potting soil, place the seeds so that their top is barely visible beneath the surface. Germination temperature should be maintained between 80-85°F (26-29 °C). Within 6 weeks you should see the new plant starting to grow. Using a heat mat is ideal for growing palms.
---