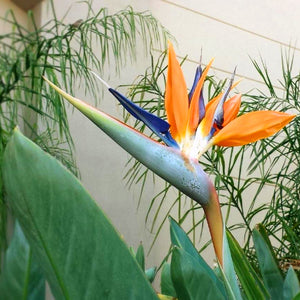 Easy Grow Seeds
Bird of Paradise Strelitzia Reginae Houseplant Seeds
Regular price
$9.00
$0.00
Unit price
per
Tax included.
Shipping
calculated at checkout.
8 Bird of Paradise seeds. This evergreen, perennial plant forms clumps reminiscent of Banana plants. It features ovate, glaucous green leaves that reach lengths of 40-50 cm and widths of 15-20 cm, while the stalks can grow up to 60 cm tall. During the summer, unique floral stalks emerge sporadically, culminating in striking, large flowers. These floral stalks surpass the tufts, extending from the base and showcasing lanceolate sepals in shades of orange and yellow, complemented by blue petals.

These seeds come with an option of Eco Packaging - Find out more. 


Growing Instructions
Soak in lukewarm water for 24 hours. Scarify the seed lightly then sow in potting soil. Keep moist. Germination should occur in 2-3 months.


---