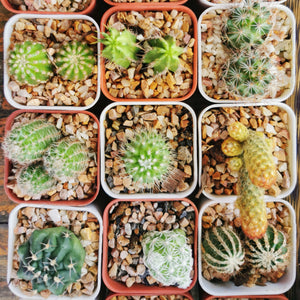 Easy Grow Seeds
Cactus Crown Houseplant Seeds
Regular price
$6.00
$0.00
Unit price
per
Tax included.
Shipping
calculated at checkout.
15 cactus seeds. An easy to grow blended mixture of various types and sizes. Rebutia crown cactus is a favorite of many growers, flowering and producing offsets after just a few years. Many cacti in the family of Rebutia are well-known and grown by collectors, including Rebutia crown cactus, Rebutia marsoneri. Several types flower profusely from the rounded domes, as does the Krainz crown cactus. It is one of the earliest to bloom and has a continuous flowering cycle, making them long lasting. Blooms are bright colored in oranges and yellows.

These seeds come with an option of Eco Packaging - Find out more. 


Growing Instructions
Sow anytime. Grow it in a bright, shady spot with limited morning sun if possible. Keep it in your coolest room when it is inside during winter.
Grow the plant in a cactus mix or use potting soil combined with perlite or pumice. If the soil does not drain well, add a layer of charcoal or gravel to the bottom of the pot. Transplant the plant if it outgrows its current pot. Expect germination in 3-4 weeks.
---