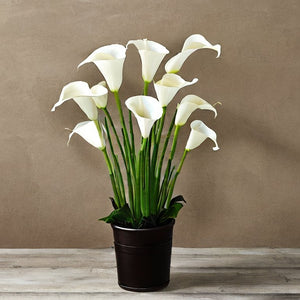 Easy Grow Seeds
Calla Lily Zantedeschia Houseplant Seeds
Regular price
$8.00
$0.00
Unit price
per
Tax included.
Shipping
calculated at checkout.
6 Calla Lily seeds. Calla lily, also known as arum lily, is not a true lily. It belongs to the genus Zantedeschia which originates from South Africa. With huge, exotic looking flower-like spathes now available in a wide range of colours, calla lily is becoming increasingly popular as a houseplant as well as a garden and patio plant.

These seeds come with an option of Eco Packaging - Find out more. 


Growing Instructions
Soak seeds overnight for 8hrs to help with germination. Fill 3-inch seedling pots with a standard potting mixture and set the pots in a drip tray. Sow the calla lily seeds on the soil surface and press them into the soil so the top of the seed is just barely exposed.

Pour one inch of water into the drip tray and allow the soil to soak up the water through the bottom drainage holes in the pots. Pour out the excess water when the soil surface feels moist, which can take up to an hour.

Place in propagator or in plastic bag to keep moist. Place on bright windowsill, seeds require light to germinate. Once seeds have germinated, take propagator lid off or remove plastic bag. Germination should take place in between 1 and 3 months. Transplant on second set of true leaves into 6" pots. Water once soil dries out.


---