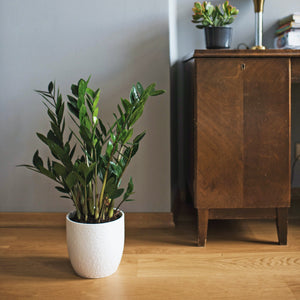 Easy Grow Seeds
Cardboard Palm Zamia Furfuracea Houseplant Seeds
Regular price
$9.00
$0.00
Unit price
per
Tax included.
Shipping
calculated at checkout.
5 Cardboard Palm seeds. The Cardboard palm is in fact not a palm, it's a Cycad. Cycads, which have been around since the dinosaurs, form cones at the center of the plant. The cardboard palm plant is native to Mexico and has tropical tendencies in its preferred temperature and light levels.

These seeds come with an option of Eco Packaging - Find out more. 


Growing Instructions
Plant seeds in a well-draining potting soil such as a cactus mix, using small pots or trays. Plant around 1cm deep and cover with soil. Water well and propagate or cover with plastic wrap to give them the humidity of a greenhouse. Keep moist but not wet. Germination can be erratic but once they start to sprout, take off cover. Expect anywhere from 1 month to a year for them to germinate.
---