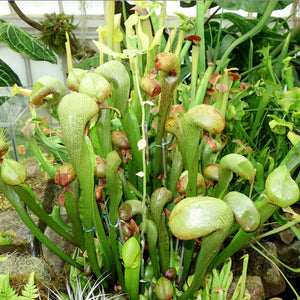 Easy Grow Seeds
Cobra Lily California Pitcher Plant 'Darlingtonia Californica' Carnivorous Houseplant Seeds
Regular price
$10.00
$0.00
Unit price
per
Tax included.
Shipping
calculated at checkout.
5 cobra lily seeds. A perennial to 40cm, forming a rosette of trumpet-shaped leaves with the red-veined top folded over to form a hood with a reddish appendage. Flowers 6cm across, bell-shaped, with narrow yellowish-green sepals surrounding heavily purple-veined petals. 

These seeds come with an option of Eco Packaging - Find out more. 


Growing Instructions

Perennial. Sow anytime. Use a neutral soilless potting
mix such as 1pt peat moss and 1pt perlite.
Ensure the mix is fully watered all the way through
using distilled water. Surface sow seeds. Propagate
with a propagator set or inside a zip lock bag with 2
inches of distilled water in the bottom. Place in fridge
to stratify for 4-6 weeks. After this place under lights or in a light position,
expect germination in 4-6 weeks from this point. Always
use distilled/rain water when watering these plants. 

---