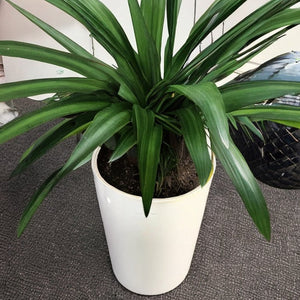 Easy Grow Seeds
Cordyline Stricta Slender Palm Lily Houseplant Seeds
Regular price
$8.00
$0.00
Unit price
per
Tax included.
Shipping
calculated at checkout.
10 Cordyline Stricta seeds. Cordyline stricta, known as the Slender Palm Lily, or Narrow-leaved Palm Lily is an evergreen Australian plant that's very popular as a tall elegant houseplant.

These seeds come with an option of Eco Packaging - Find out more. 


Growing Instructions
Sow the seed in small pots or in seed trays in a seed and potting compost mixture and cover with 2mm (¼in) of compost. Keep in a warm temperature around 18-22°C (65-70°F). Germination 8-12 weeks (some may take a little longer). Be careful not to over water they can be susceptible to the fungal disease damping off.
---