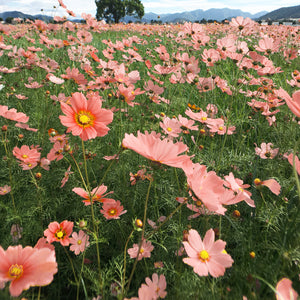 Easy Grow Seeds
Cosmos Apricotta Flower Seeds
Regular price
$4.00
$0.00
Unit price
per
Tax included.
Shipping
calculated at checkout.
12 cosmos seeds. Cosmos Apricotta Flower Seeds - 12 Seeds
Apricotta is a tall large flowered variety suitable for borders and home cut flowers. Shades of apricot with some pink with a lovely soft pink center. 60-80 cm

These seeds come with an option of Eco Packaging - Find out more. 

Growing Instructions
Annual, sow direct into the flowering position, 25cm between rows, in April-May. Takes around 12 weeks sowing to flowering. The Sonata types may also be sold in packs/pots, and the White may be sold in large (15cm) pots for Summer sales. Germinates in 7-10 days at 19-21°C, cover with vermiculite, prick out after 3 weeks.


---