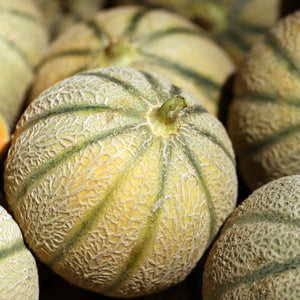 Easy Grow Seeds
Desert Melon Ogen Pelleted Seeds
Regular price
$6.00
$6.00
Unit price
per
Tax included.
Shipping
calculated at checkout.
8 Cucumis melo seeds. An open pollinated variety producing small, broad, oval fruits, green-skinned with yellow flesh. The original strain of Ogen Melon named after from the Israeli kibbutz where it became immensely popular. Aromatic Ogen Melons have an indescribable warmth, richness and sweetness of flavour that is captivating and 'moreish'.

These seeds come with an option of Eco Packaging - Find out more. 


Growing Instructions
Sow March-April into modules, germinates at 20-30°C. Sow melon seed at a depth of 1cm (½") in trays of free-draining, seed sowing compost. Place in a propagator or seal container inside a plastic bag at a temperature of 20C (68F) until germination which takes 7-10 days. Protect the emerging seedlings from direct sunlight to avoid scorching.


---