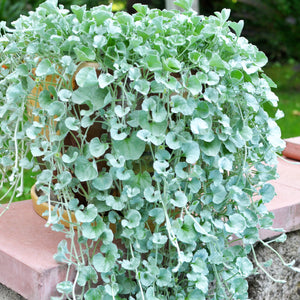 Easy Grow Seeds
Dichondra Silver Falls Flower Seeds
Regular price
$8.00
$0.00
Unit price
per
Tax included.
Shipping
calculated at checkout.
6 Dichondra seeds. Dichondra is a small genus of flowering plants in the morning glory family, Convolvulaceae. They are prostrate, perennial, herbaceous plants, with creeping stems which take root readily at the leaf nodes.

This trailing foliage plant has a number of features to make it ideal as a basket plant: cascading, silver foliage, very drought and heat tolerant, recovers well if wilted. Grows about 90 cm in length.

These seeds come with an option of Eco Packaging - Find out more. 


Growing Instructions
Tender Perennial grown as annual. Cover lightly with vermiculite. Keep soil moisture high until radicle emergence, then reduce moisture levels. Plug development is faster with drier plug culture. Germinates at 21-24°C, sow January onwards. Self branching.
---