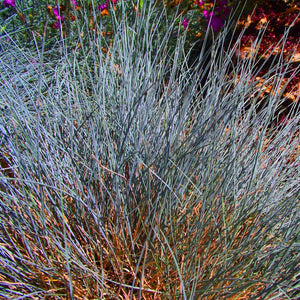 Easy Grow Seeds
Elijah Blue 'Festuca Glauca' Ornamental Grass Seeds
Regular price
$8.00
$0.00
Unit price
per
Tax included.
Shipping
calculated at checkout.
100 Festuca seeds. Fountain Grass (Pennisetum ruppelii) - Grow Fountain Grass seeds for a breathtaking ornamental grass that will bring beauty to any landscape setting. One of the most popular ornamental grasses, rose Fountain Grass add rich rosy-pink color to the summer landscape. The 12-inch plumes have a fuzzy, soft consistency and seem to float above spinach-green stalks 2 feet tall. Fountaingrass is perfect as a specimen or accent planting. The blades bow under the weight of its bright blooms, creating a lovely cascading effect.

These seeds come with an option of Eco Packaging - Find out more. 

| | |
| --- | --- |
| Sow Inside before transplanting | January-April |
| Sow Outside | April Onwards |

Growing Instructions
Festuca glauca, also known as Blue Fescue, boasts the purest blue color among dwarf grasses and exhibits exceptional drought resistance once established. Its stiff, thread-like blue foliage forms compact and upright tussocks, adorned with steel blue flower-heads during the summer. This grass is an ideal choice for rock gardens, harmonizing beautifully with a diverse range of rock plants. Additionally, it lends itself well to container displays, adding a touch of visual interest and versatility to any arrangement.
Festuca glauca is easily grown from seed, best sown in spring between February and April. Plant the seeds in well-drained soil, maintaining a temperature of around 20ºC (68ºF). Germination typically occurs within two weeks. Once the seedlings have reached a suitable size, transplant a small clump into a one-litre pot filled with gritty compost. This will promote bushy growth, preparing them for later planting in the garden during summer. Ensure they are placed in a sunny location with well-drained soil. Sow the seeds at a depth of 6mm (¼in) in rows spaced 30cm (12in) apart in finely prepared soil. Germination may be occasionally slow, requiring some patience. Thin out the seedlings, leaving them spaced approximately 23cm (9in) apart, and replant any removed seedlings as desired.
---