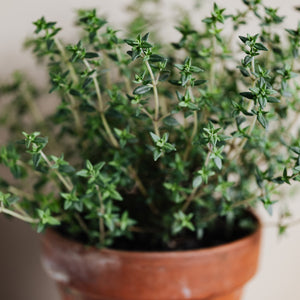 Easy Grow Seeds
English Winter Thyme Seeds
Regular price
$3.00
Sale price
$5.00
Unit price
per
Tax included.
Shipping
calculated at checkout.
1750 English winter thyme seeds. Thyme is a wonderful herb with a pleasant, pungent, clover flavor. It smells like summer to us! There are both fragrant ornamental types as well as culinary thyme varieties which add a savory note to summer soups, grilled meats, and vegetables. 

A low-growing hardy perennial, thyme is a fragrant herb with small, fragrant leaves and thin, woody stems. The culinary varieties are evergreen.

English thyme is used most often in cooking.

Originally from the Mediterranean area, this herb is drought-friendly so it doesn't have high watering needs. It is also pollinator-friendly! Let some thyme plants flower, since the herb attracts the bees.

While thyme is usually harvested in the summer months, we have harvested ours well into late Autumn!

These seeds come with an option of Eco Packaging - Find out more. 
| | |
| --- | --- |
| Sow Outside | March-September |
| Sow Inside (before transplanting) | January-February |

Growing Instructions
Thyme can grow in the ground or in a container. Either is left outside in wintertime. New leaves will emerge within the early spring.

Thyme thrives in full sun and loves heat. If you are growing in a pot indoors, plant near a sunny window.

Soil needs to drain well so there aren't "wet feet." In the garden, plant with other drought-tolerant perennials.

In early spring, you may fertilize with organic matter, like compost, but not much soil amendment is necessary.

For a head start, plant the cuttings indoors 6 to 10 weeks before the last spring frost. 

Plant cuttings or young thyme plants any time after the ground temperature reaches 70°F. This is usually 2 to 3 weeks before the last spring frost in well-drained soil about 9 inches apart.

Space young plants 12 to 24 inches apart, depending upon the specific variety.
The plants should grow 6 to 12 inches in height.

In the garden, plant thyme near cabbage or tomatoes.

If you are growing thyme in containers, plant with rosemary which also likes sunny conditions and has similar watering needs.
---