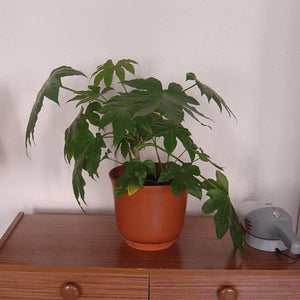 Easy Grow Seeds
Fatsia Japonica Paperplant Houseplant Seeds
Regular price
$8.00
$0.00
Unit price
per
Tax included.
Shipping
calculated at checkout.
15 Fatsia Japonica seeds. Fatsia japonica, commonly called Japanese aralia, is native to Japan. It is an evergreen shrub or small tree that typically grows to 16' tall in its native habitat. Plants grown indoors typically grow to 6' tall.

These seeds come with an option of Eco Packaging - Find out more. 


Growing Instructions
Plant the seeds in rich potting soil, adding compost if necessary. Use warming mats under the starter pots, as fatsia seeds require bottom heat of around 80 F. (27 C.). Add a little water to the soil and cover the tops of pots with plastic wrap to keep seeds and soil warm and moist. Water as needed, about every few days. You should see the seeds germinate in two to four weeks. Remove the plastic wrap once the seedlings emerge from the soil but keep the warming mat on for another week or two. Transplant 3-inch (7.6 cm.) seedlings to larger pots and keep them warm.
---