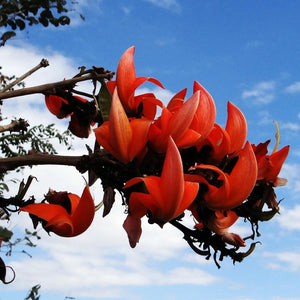 Easy Grow Seeds
Flame of the Forest Bonsai Houseplant Seeds
Regular price
$9.00
$0.00
Unit price
per
Tax included.
Shipping
calculated at checkout.
10 Bonsai seeds. Noted for its magnificent floral display, Butea monosperma (Flame of the Forest) is a small to medium-sized deciduous tree that's perfect for Bonsai! This gorgeous, slow-growing South East Asian native tree opens its bright orange-red flowers, produced in clusters up to 15 cm long, from January to March, when it becomes a tree of flame, an absolute riot of orange and vermilion flowers, which cover the entire crown, massed along the ends of the stalks.

These seeds come with an option of Eco Packaging - Find out more. 


Growing Instructions
Soak seeds for 48 hours in water and sow 1 cm deep in a combination of sowing mix and silica sand (1:1). Cover with plastic foil or glass and keep the soil constantly moist. Let them germinate in a warm place (25-30 degrees Celsius). Germination should take place in 4-6 weeks.


---