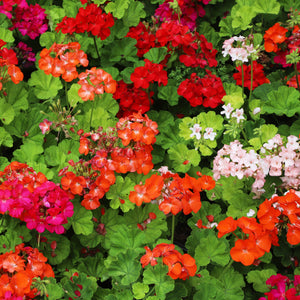 Easy Grow Seeds
Geranium Cabaret Mixed Flower Seeds
Regular price
$4.00
$0.00
Unit price
per
Tax included.
Shipping
calculated at checkout.
5 Geranium seeds. One of the finest mixes of summer flowering Geraniums, perfect for borders, containers or baskets. The best Choice for growers and young plant producers.

These seeds come with an option of Eco Packaging - Find out more. 
Growing Instructions
Perennial. Sow your geranium seeds in moist, free-draining seed compost in a seed tray or small pot. Space the seeds out so that each has space to germinate, and cover with a thin layer of compost or vermiculite. Water gently after sowing with a fine rose or mist spray. Propagate with lid or plastic wrap. Remove once germinated. It's essential that a steady and warm soil temperature of between 70-75F (21-24C) is maintained to germinate geranium seeds.

Sow seed in October when ambient temperatures are still fairly high. Grow your young plants through the winter and spring, keeping them at around 45F (7C). Autumn sowing saves on fuel compared with January sowing, and produces earlier flowering and healthier plants.

Or, sow your geranium seeds from mid to late December for flowering in late April and early May. Alternatively, an early January sowing should produce flowers in mid to late May.


---