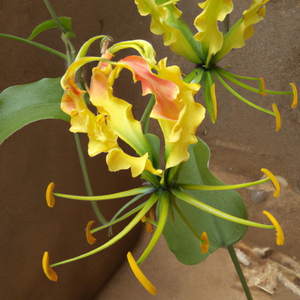 Easy Grow Seeds
Gloriosa Lily Houseplant Seeds
Regular price
$8.00
$0.00
Unit price
per
Tax included.
Shipping
calculated at checkout.
10 Lily seeds. Incredibly beautiful, Gloriosa lutea (Gloriosa Lily) is a deciduous, tuberous, tendril climber boasting vibrant lemon-yellow flowers Perfect for landscaped tropical gardens and houseplants alike.

These seeds come with an option of Eco Packaging - Find out more. 


Growing Instructions
Before planting gloriosa lily seeds, soak them in warm water for 24 hours. Sow the seeds in a pot of moist peat moss no deeper than 1 inch (2.5 cm.). Cover the pot with plastic wrap or plant inside a propagator and keep it moist and warm. It may take between one and three months for the seeds to germinate.



---