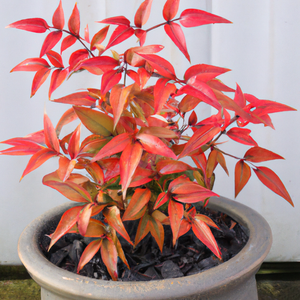 Easy Grow Seeds
Heavenly Bamboo Houseplant Seeds
Regular price
$8.00
$0.00
Unit price
per
Tax included.
Shipping
calculated at checkout.
15 heavenly bamboo seeds. Nandina domestica commonly known as nandina, heavenly bamboo or sacred bamboo, is a species of flowering plant in the family Berberidaceae, native to eastern Asia from the Himalayas to Japan. It is the only member of the monotypic genus Nandina.

These seeds come with an option of Eco Packaging - Find out more. 

| | |
| --- | --- |
| Sow Inside | Anytime |
| Sow Outside | October-February |

Growing Instructions
Nandina can be grown in tubs or containers, outdoors and indoors, as long as plants receive plenty of light and aren't exposed to warm, dry air currents.

Sow at any time of the year in a moist, free-draining seed compost in pots or trays at a depth of 3mm. Seal in a polythene bag and place in the fridge or other cold place between 2-5C for 12 weeks. Then move to a propagator or warm place and maintain an optimum temperature of 18-20C. Germination can be slow and erratic but should occur after 30-90 days. As the seedlings emerge, gradually increase ventilation by opening the bag or propagator vents. Note: as germination can be erratic, sow very thinly and prick out the seedlings as they grow large enough, disturbing the rest of the compost as little as possible.

Transplant seedlings when large enough to handle into 9cm pots. Grow on in cooler conditions (about 13-15C) with plenty of light, but shaded from direct sun.
---