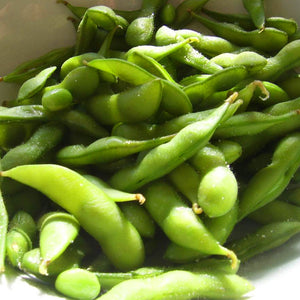 Easy Grow Seeds
Japanese Edamame Bean Seeds
Regular price
$4.00
$6.00
Unit price
per
Tax included.
Shipping
calculated at checkout.
15 edamame seeds. Popular snack in upmarket restaurants and a delicacy in Japan. Edamame is the name given to the immature soybean pod. Once edamame pods mature, harden, and dry, they are used to make soy milk and tofu. Edamame is usually steamed in water and then eaten by squeezing the beans out of its pod, popping directly into the mouth.

These seeds come with an option of Eco Packaging - Find out more. 


Growing Instructions
Sow from April - June. Plant edamame seeds one to two inches deep in your soil, about three inches apart in an area of your garden that receives full sun. Rows should be spaced two feet apart. Germination will take 7 to 14 days.


---