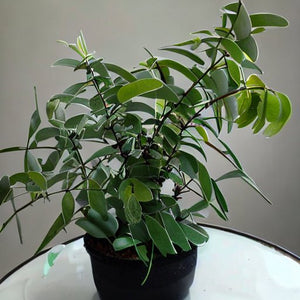 Easy Grow Seeds
Lemon Eucalyptus Houseplant Seeds
Regular price
$8.00
$0.00
Unit price
per
Tax included.
Shipping
calculated at checkout.
10 eucalyptus seeds. The lemon eucalyptus plant, also known as lemon-scented gum, has a more pungent smell than other citrusy herbs, like lemon verbena, lemon balm, and lemon thyme. If you touch a leaf, the air is infused with the super-strong scent of lemon. In fact, if you've ever burned a citronella candle, don't think it is scented with real lemon fragrance. Rather, it is made with oil from lemon eucalyptus bush leaves. Therefore, the lemon eucalyptus plant is the perfect mosquito repellent!

These seeds come with an option of Eco Packaging - Find out more. 


Growing Instructions
Lemon Eucalyptus is easy to grow, but don't like root disturbance, so be sure to plant them inside the ideal pot size for you rather than repotting as they grow. Plant them in well-draining potting soil and keep them on a sunny windowsill. Press seed into soil at around twice the thickness of the seed and cover lightly. Water them from underneath using a tray/plate to keep seeds moist. You can also use a propagator or plastic wrap to encourage germination, once seedlings emerge remove propagator/plastic wrap.
---