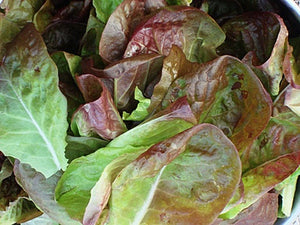 Easy Grow Seeds
Marvel of Four Seasons Lettuce Seeds
Regular price
$4.00
$0.00
Unit price
per
Tax included.
Shipping
calculated at checkout.
900 four seasons lettuce seeds. Marvel of Four Seasons is a real stunner to add colour to a salad, with its deep red outer leaves and light green heart. Not only that, it tastes amazing and is super easy to grow!

These seeds come with an option of Eco Packaging - Find out more. 

Growing Instructions
Can be grown almost any time of year. Sow thinly outside 1cm deep in rows 25cm apart in a well-prepared bed and lightly cover with fine soil & water carefully. Seedlings should germinate in 7-14 days. When large enough to handle thin seedlings to one every 15cm and then again a 2-3 weeks later to one every 30cm. Sow every 2-3 weeks for a continuous supply.

---