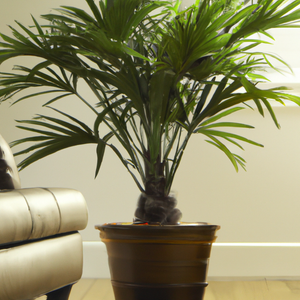 Easy Grow Seeds
Mediterranean Dwarf Palm Houseplant Seeds
Regular price
$9.00
$0.00
Unit price
per
Tax included.
Shipping
calculated at checkout.
10 Chamaerops humilis seeds. The European Fan Palm/Mediterranean Dwarf Palm (Chamaerops humilis) is an attractive, multi-stemmed palm for indoor use. Fronds are fan shaped and sit atop a 4 foot (1 m.) stem. Leaves are grayish green in color and about 2 feet (61 cm when fully grown.

These seeds come with an option of Eco Packaging - Find out more. 


Growing Instructions
Growing a Mediterranean fan palm is relatively easy. Best planted in a full sun to moderation shade location, the fan palm has a reputation as being very hardy, as it can endure temperatures as low as 5 F. (-15 C.). And, once established, they prove to be very drought resistant, although you would be advised to water it moderately, especially in the summer. Until it's established with a deep, extensive root system (which takes a full growing season), you will want to be especially diligent in watering it. Water it weekly, and more frequently when it's subjected to extreme heat. The Mediterranean fan palm is tolerant of a wide range of soil conditions (clay, loam or sand texture, slightly acidic to highly alkaline soil pH), which is further testament to its hardiness. Fertilise with a slow-release palm fertiliser in spring, summer and Autumn.
---