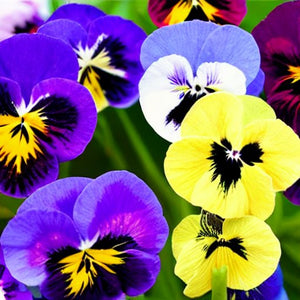 Easy Grow Seeds
Pansy Joker Mixed Flower Seeds
Regular price
$6.00
$0.00
Unit price
per
Tax included.
Shipping
calculated at checkout.
40 pansy seeds. Joker Pansies were developed for outdoor culture, the plants readily flower in the Autumn and are fully Winter hardy.
Large round flowers show a friendly blue and white face on robust plants that remain compact for a long time.

These seeds come with an option of Eco Packaging - Find out more. 

| | |
| --- | --- |
| Sow Outside | Various (see below) |
| Sow Inside (before transplanting) | Various (see below) |

Growing Instructions
Sow the seed into trays or plugs, cover lightly with vermiculite, and keep the compost moist.
Germinate at 18-20°C, shading to avoid excessive temperatures which can depress germination.
Germination should be apparent in about 7-10 days.
After 4-5 weeks, prick out into 6-packs or 8cm pots.
Use a slow-release fertilizer or commence liquid feeding after 2-3 weeks.
Sow June for flowering in Aug-Sept.
Sow July for flowering in Sept-Oct.
Sow Aug for flowering in Nov-Feb.
Sow Oct-Dec for flowering in March.
Sow Jan for flowering in April.

---