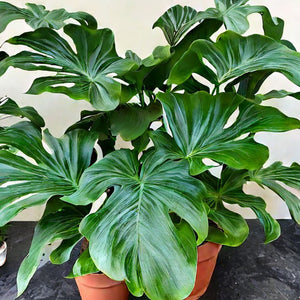 Easy Grow Seeds
Philodendron Hope Houseplant Seeds
Regular price
$9.00
$0.00
Unit price
per
Tax included.
Shipping
calculated at checkout.
15 philodendron seeds. A philodendron selloum (philodendron bipinnatifidum), is native to South America but also grows on the east and gulf coasts of the United States. It has many common names such as Hope Selloum, Horsehead Philodendron, Lacy Tree Philodendron, Philodendron Hope Selloum, and Tree Philodendron, and is often confused with the philodendron xanadu.

These seeds come with an option of Eco Packaging - Find out more. 


Growing Instructions
The seeds need to be placed into soil ideally a soil-less seed starting mix, 0.5 to 1 centimetre deep, and lightly covered. The location should be warm and bright and the seeds need about two to six weeks to germinate when having a constant temperature between 20 – 23 degrees celsius. Keep spraying the soil to keep it moist but not too wet. Ideally use a propagator, or cover with plastic to ensure the moisture is retained and a greenhouse effect is created.

As soon as they've developed to a certain size you should put them into a small pot. You can also use nutritious breeding soil, it provides the roots with all needed nutrients, so that healthy roots can develop into a strong-growing plant.
---