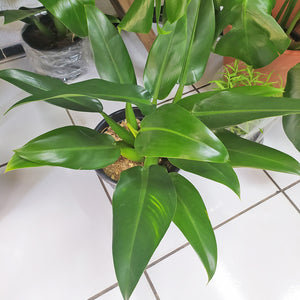 Easy Grow Seeds
Philodendron Martianum Pacová Houseplant Seeds
Regular price
$9.00
$0.00
Unit price
per
Tax included.
Shipping
calculated at checkout.
10 philodendron seeds. The Philodendron Martianum, also known as the Flask Philodendron or Fat Boy, is an extremely rare plant native to Brazil. It features stiff, leathery-textured leaves and a non-vining growth habit, reaching over 3 feet (1 meter) in height, making it ideal for use as a floor plant. This Philodendron produces large, attractive blooms with creamy-white hoods and deep red accents down their throats, making them stand out from other Philodendron varieties. Overall, the Philodendron Martianum is a unique and beautiful plant that is sure to add a touch of exotic charm to any space.

These seeds come with an option of Eco Packaging - Find out more. 


Growing Instructions
The seeds need to be placed into soil ideally a soil-less seed starting mix, 0.5 to 1 centimetre deep, and lightly covered. The location should be warm and bright and the seeds need about two to six weeks to germinate when having a constant temperature between 20 – 23 degrees celsius. Keep spraying the soil to keep it moist but not too wet. Ideally use a propagator, or cover with plastic to ensure the moisture is retained and a greenhouse effect is created.
---