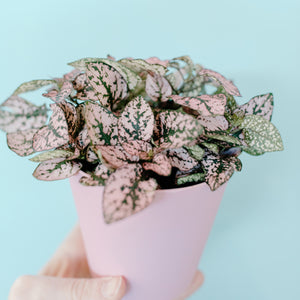 Easy Grow Seeds
Pink Splash Polka Dot Houseplant Seeds
Regular price
$8.00
$0.00
Unit price
per
Tax included.
Shipping
calculated at checkout.
10 pink splash seeds. Hypoestes phyllostachya, the polka dot plant, is a species of flowering plant in the family Acanthaceae, native to South Africa, Madagascar, and south east Asia. The spots often merge into larger areas of colour.
These seeds come with an option of Eco Packaging - Find out more. 


Growing Instructions
Provide good lighting. Bright, indirect light is ideal for pink polka dot plant. Plant in rich, well-draining soil, an organic potting soil is ideal. Water regularly, when the top ¼ to ½ inch of soil has dried out. Fertilize monthly with a fertilizer designed for houseplants. Provide high humidity which can be achieved by misting several times a day and grouping plants together. Plants transpire and humidify one another. Plants thrive off moderate temperatures of around 24°C. Pinch back weekly.

Bright, indirect light is ideal for pink polka dot plant. This will keep the colors vibrant in the plant, while at the same time prevent the plant from becoming lanky. If you grow the polka dot plant in a low-light location, it will grow leggy quickly and fade in color. A location with light that's too bright will also fade the foliage colors.
---