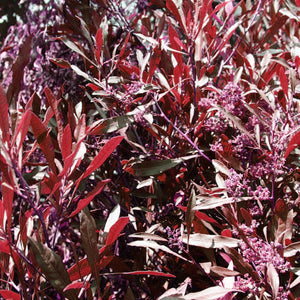 Easy Grow Seeds
Purple Hop Bush Shrub Seeds
Regular price
$8.00
$0.00
Unit price
per
Tax included.
Shipping
calculated at checkout.
10 Dodonaea viscosa Purpurea seeds. Large evergreen shrub or small tree with purple flushed foliage. Masses of tiny scented flowers in summer Slightly frost tender so best grown in warm coastal gardens. Makes a good large tub specimen which can be overwintered in a cold glasshouse in colder areas. Any soil. Best colour in sun. Height 3m.

These seeds come with an option of Eco Packaging - Find out more. 


Growing Instructions
Place the seeds in a container and pour just-boiled water over them, allowing them to soak overnight.
After the soaking period, check for swollen seeds. Only sow the seeds that have swollen, discarding any that haven't.
Sow the seeds on the surface of a porous seed raising mix. As you water the mix, the seeds will lodge into the pores.
Cover the seeds with a layer of seed raising mix, ensuring it is not too deep and does not bury the seeds excessively.
Choose a warm, shaded, or semi-shaded location to prevent drying out of the seeds.
Maintain a warm and moist environment, avoiding both excessive drying and waterlogging of the growing mix.
Germination is expected to occur within 10-21 days, given the optimal temperature range of 18-22°C (64-72°F).



---