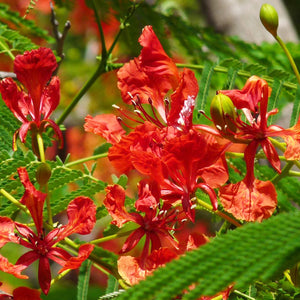 Easy Grow Seeds
Red Bird of Paradise Flowering Shrub or Small Tree Seeds
Regular price
$8.00
$0.00
Unit price
per
Tax included.
Shipping
calculated at checkout.
5 Caesalpinia pulcherrima seeds. Caesalpinia pulcherrima is a shrub that embodies the essence of tropical beauty, featuring soft foliage and delicate, open flowers that are typically red, but can also appear in shades of yellow or orange. The leaves of this shrub are bipinnate, measuring 20-40 cm in length. They bear three to 10 pairs of pinnae, with each pinna containing six to 10 pairs of leaflets that are 15-25 mm long and 10-15 mm wide. Adorning racemes that can grow up to 20 cm long, the flowers of C. pulcherrima showcase five petals in vibrant hues of yellow, orange, or red. Its fruit is a pod that ranges from 6 to 12 cm in length. Among the Caesalpinia genus, C. pulcherrima is the most widely cultivated species. It is highly regarded as an ornamental plant, finding a home in both private and public gardens in warm climates with mild winters. The plant's inflorescence, which exhibits shades of yellow, red, and orange, contributes to its striking beauty. Thanks to its compact size and excellent tolerance for pruning, C. pulcherrima can be planted in groups to form hedgerows. Additionally, it serves as an attractive choice for attracting hummingbirds.

With rapid growth and captivating pinnate leaves, this plant is a fantastic choice that can also thrive as a container plant. When temperatures drop and freezing conditions occur outdoors, it is advisable to relocate the plant indoors and ensure it receives ample sunlight.

These seeds come with an option of Eco Packaging - Find out more. 

| | |
| --- | --- |
| Sow Outside | April-September |

Growing Instructions
To initiate the sowing process, begin by soaking the seeds in lukewarm water for 24 hours. Afterwards, sow them in a suitable sowing mix, allowing germination to take place at temperatures between 20-25 degrees Celsius.




---