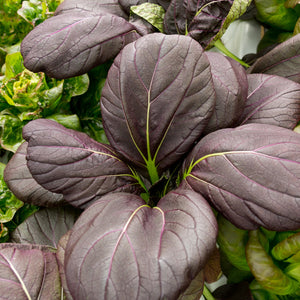 Easy Grow Seeds
Red Lady Pak Choi Seeds
Regular price
$6.00
$6.00
Unit price
per
Tax included.
Shipping
calculated at checkout.
400 Pak Choi seeds. A hybrid red Pak Choi that offers excellent vigour.
The very upright, long petioled habit makes for easy babyleaf harvesting.
Oval leaves in deep wine red with green undersides; green stems and red veins.
The colour, texture, shape and flavour of these products adds interest to mixed salad packs and baby leaf mixes.

These seeds come with an option of Eco Packaging - Find out more. 

Growing Instructions
Sow Outdoors: April - July 
It is ready to harvest in 30 days from sowing as baby leaf, or between 45-75 days as semi-mature to full-size heads.

---