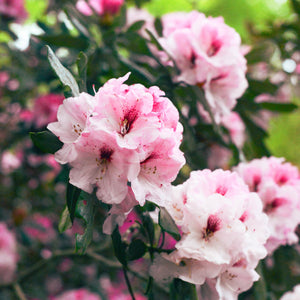 Easy Grow Seeds
Rosebay Rhododendron Flowering Shrub Seeds
Regular price
$8.00
$0.00
Unit price
per
Tax included.
Shipping
calculated at checkout.
50 Rhododendron seeds. Rosebay Rhododendron is abundant in the Great Smoky Mountains National Park. Often grown as an ornamental, it is one of the hardiest and largest evergreen rhododendrons. The wood is occasionally used for tool handles, and a home remedy has been prepared from the leaves.

These seeds come with an option of Eco Packaging - Find out more. 


Growing Instructions
Perennial. Combine seeds loosely with sphagnum moss and sprinkle lightly over a 2:1 perlite/peat mixture. Germinate under mist or a plastic tent. Optimum temperatures for germination are 45-50 degrees. Transplant seedlings to acid soil.


---