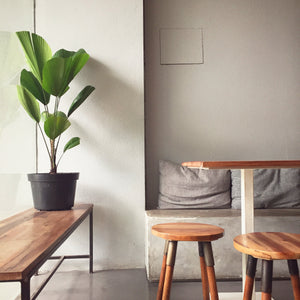 Easy Grow Seeds
Ruffled Fan Palm Houseplant Seeds
Regular price
$9.00
$0.00
Unit price
per
Tax included.
Shipping
calculated at checkout.
10 Licuala Grandis Palm seeds. Licuala grandis, the ruffled fan palm, Vanuatu fan palm or Palas palm, is a species of palm tree in the family Arecaceae, native to Vanuatu, an island nation in the Pacific.
These seeds come with an option of Eco Packaging - Find out more. 


Growing Instructions
Soak the palm seeds for at least two days in lukewarm water. Sow in mineral-based cat litter (no clumping litter) or perlite (germ-free) in plastic-pots or bags. Please sow the seeds on the mineral soil and cover the seeds with 5 mm - 10 mm mineral soil. Then put the plastic pot (if using) in a ziplock bag - with a pot size of 6 cm. Mist pots and inside bag until moist. Then close the ziplock bag. Don't disturb until germinated and if using bags it is at this point you transfer to pots. Seeds need light to germinate so keep on the windowsill or in a small greenhouse in partial shade, daytime temperatures at around 25-29c. The resulting micro-climate provides ideal conditions for germination. Germination time: 45 - 60 days.


---