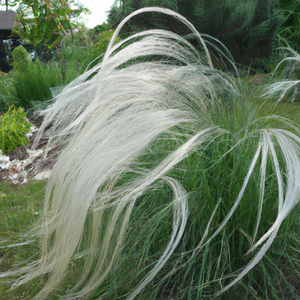 Easy Grow Seeds
Silver Feather 'Stipa Barbata' Ornamental Grass Seeds
Regular price
$12.00
$0.00
Unit price
per
Tax included.
Shipping
calculated at checkout.
5 Stipa seeds. Commonly known as Feather Grass, due to it's long, feathery, silvery-white awns. Flowers June to July. Can be used as a dried flower, cut in good time or the awns will fall out. Height 90cm with 40cm long awns. S. barbata is a perennial grass producing a loose clump of narrow, mid-green leaves. From early summer it produces small clusters of flowers, silky and silvery at first, then becoming cream, fluffy and curled, like an ostrich feather

These seeds come with an option of Eco Packaging - Find out more. 

| | |
| --- | --- |
| Sow Inside before transplanting | Anytime |
| Sow Outside | Anytime |

Growing Instructions
Perennial. Sow indoors. Surface sow onto moist well-drained seed compost, sow finely. Just cover seeds with a sieved layer of soil. Ideal temp. 21-22°C. Germination takes 7-10 days. If germination does not occur cold stratify. Move seeds to -3-+4°C for 2-4 weeks then return to warmth. Once germination occurs move to a cooler position. Transplant seedlings once large enough to handle to 1L pot containing gritty compost. Acclimatise and plant out after danger of frost has passed.

---