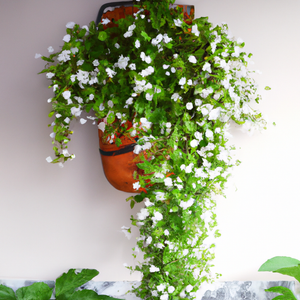 Easy Grow Seeds
Smilax Bridal Creeper Houseplant Seeds
Regular price
$8.00
$0.00
Unit price
per
Tax included.
Shipping
calculated at checkout.
15 Smilax seeds. Need a pop of green? Easy-to-grow asparagus ferns are genial go-to plants that will thrive nearly anywhere. Asparagus asparagoides, commonly known as bridal creeper, bridal-veil creeper, gnarboola, smilax or smilax asparagus, is a herbaceous climbing plant of the family Asparagaceae native to eastern and southern Africa.

These seeds come with an option of Eco Packaging - Find out more. 


Growing Instructions
Plant seeds 1/4-1/2" deep in good soilless well-draining potting mix. Make sure the soil is moist, not soggy. After you plant the seeds, cover with plastic (for instance, put a ziploc bag over a nursery pot) to ensure the seeds stay warm and humid. Make sure to monitor the soil to make sure it doesn't dry out.

Keep them in a bright spot, a windowsill with direct sunlight works, or use a grow light and keep them at around 20°C.

The seeds should germinate within 3-4 weeks. Once sprouts pop up, you can remove the plastic cover and ensure that the growing medium remains moist.
---