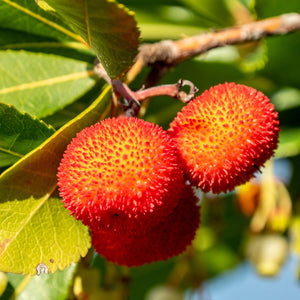 Easy Grow Seeds
Strawberry Tree Bonsai Houseplant Seeds
Regular price
$8.00
$0.00
Unit price
per
Tax included.
Shipping
calculated at checkout.
10 Strawberry tree seeds. Arbutus unedo is a large, bushy, evergreen shrub, with rough bark and dark green leathery leaves. Its bell-shaped autumn flowers resemble those of lily of the valley, while its fruits resemble strawberries. Both the flowers and fruit appear at the same time, making it a particularly lovely specimen, especially in small gardens.

These seeds come with an option of Eco Packaging - Find out more. 


Growing Instructions
For best results, grow Arbutus unedo in a sheltered spot in moist but well-drained soil in sun or partial shade. Prior to sowing soak the seed for 5-6 days in warm water, change water daily then surface sow onto moist well-drained seed compost. Just cover with a sprinkling of soil. The seeds are deeply dormant and will require 8-14 weeks of temp.


---