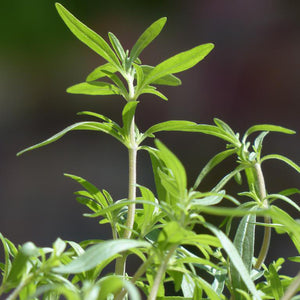 Easy Grow Seeds
Summer Savoury Herb Seeds
Regular price
$4.00
$0.00
Unit price
per
Tax included.
Shipping
calculated at checkout.
1500 Summer Savoury seeds. The Love Herb — An annual herb, Satureja hortensis is a low-growing plant that belongs to the mint family (Lamiaceae) and is related to rosemary and thyme.
Summer savory is a characteristic ingredient of herbes de Provence. It is also widely used as a seasoning for grilled meats and barbecues, as well as in stews and sauces. Summer savory is preferred over winter savory for use in sausages because of its sweeter, more delicate aroma.

These seeds come with an option of Eco Packaging - Find out more. 
| | |
| --- | --- |
| Sow Inside (before transplanting) | February-April |

Growing Instructions
Seeds of summer and winter savory can be started indoors spring. Sow thinly onto the surface of pots of damp compost. Do not cover. Place on a light windowsill to germinate. Seedlings should appear within two to three weeks. When large enough to handle, prick out carefully into individual pots of multi-purpose compost.

---