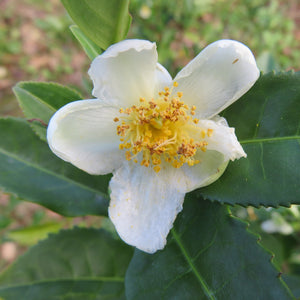 Easy Grow Seeds
Tea Plant 'Camellia sinensis' Bonsai Tree Houseplant our Garden Seeds
Regular price
$9.00
$0.00
Unit price
per
Tax included.
Shipping
calculated at checkout.
6 Tea Plant seeds. Tea plants, Camellia sinensis, thrive not only in garden settings but also indoors, making them excellent houseplants. If you reside in a region with harsh winter conditions, it's advisable to bring the plant indoors to protect it during the colder months.

These seeds come with an option of Eco Packaging - Find out more. 


Growing Instructions
To grow tea plants from seeds, sow them in a seed tray or container, ensuring a light covering of compost. Water the seeds gently and patiently await germination, which can take several months. To encourage bushier root growth, consider trimming any long taproots. Allow your camellia seedlings to mature fully before proceeding with further care.

---