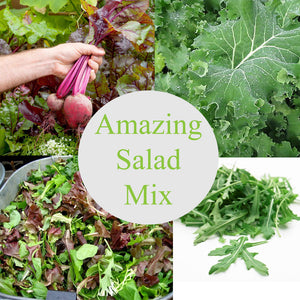 Easy Grow Seeds
The Amazing Salad Mix
Regular price
$8.00
$0.00
Unit price
per
Tax included.
Shipping
calculated at checkout.
Each pack includes the following seeds:

250 French Lettuce
500 Rocket
100 Barrecole Red Russian Kale
50 Beet Leaf Blood Red Beetroot

They are all quick and easy growers and can be grown inside or outside depending on the time of the year. Can be grown all year round.

These seeds come with an option of Eco Packaging - Find out more. 

| | |
| --- | --- |
| Sow Outside | Various (see below) |
| Sow Inside (before transplanting) | |

Growing Instructions
Instructions for growing:

Cultivated Rocket - Produce outside during the spring and
summer, and under protection during the winter. Sowing
depth 1cm. Spacing (final and for cut - and - come again)
15cm in row, 15cm between rows.
Borecole Red Russian - Germinates between 10 & 25°C.
Sow between mid May and July. Plant spacings 60 x 60cm.
Harvest in autumn and winter.
Beet Leaf Blood Red - 35 days till leaf or 58 days to
harvest as a root. Pre soaking seed in warm water 0.5 –
1 hour before sowing will speed up germination.
French Lettuce Mix - Sow Outdoors: March - July Harvest: June -
Oct Row Width: 12 inch / 30cm. Germination is typically
1-3 days.

---