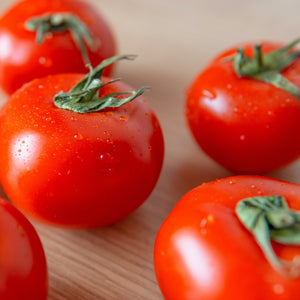 Easy Grow Seeds
Tomato Moneymaker Seeds
Regular price
$4.00
$0.00
Unit price
per
Tax included.
Shipping
calculated at checkout.
35 tomato seeds. A crop of Moneymaker tomatoes takes around 16 weeks from seed to first harvest, although this will depend on whether you are growing in a greenhouse or outdoors.

These seeds come with an option of Eco Packaging - Find out more. 

| | |
| --- | --- |
| Sow Outside | May onwards |
| Sow Inside (before transplanting) | Mid March |

Growing Instructions
Plant 'Moneymaker' tomatoes in a well-drained bed that receives six or more hours of daily sunlight. Plant the seedlings deeper than they are at in their seedling pots, so the bottom set of leaves is just above the soil surface. Space the plants about 3 feet apart in all directions.

OR If you wish to grow in a container here are the steps to take:

1. Deep Potting Soil: Tomato plants have plenty of deep roots; therefore they need a deep container of organic soil.

2. Deep Watering: Every day at least feeding one inch of water on the top soil and let it go through all the ground in the container and drain out. Soil must be moist at all times.

3. Transplanting: Young plants should be transferred together with their existing pot ground; and must be staked immediately. The plants will produce fast with flower buds; when they feel stable and secured.

4. Stakes: Give the plant first a toothpick to lean on when first transplant; and follow by a short bamboo stick. Later support the plant with a longer stick when it grows taller. The final support you can provide is a 2 meter long stick when the plant is taller than one meter; so that the plant can focus on its flowers shoots and stays straight and steady.

5. Pruning:
a. Growing tomatoes must prune off the side shoots which stay at 45° between the stem and the branch as soon as they appear. They are known as "Suckers". This way the plant will concentrate all its energies on the fruit buds.

---