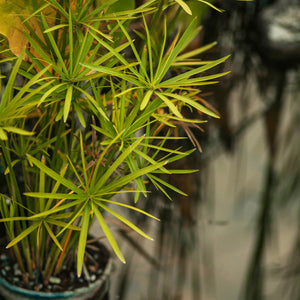 Easy Grow Seeds
Umbrella Palm Houseplant Seeds
Regular price
$8.00
$0.00
Unit price
per
Tax included.
Shipping
calculated at checkout.
15 Umbrella palm seeds. Cyperus alternifolius, the umbrella papyrus, umbrella sedge or umbrella palm, is a grass-like plant in the very large genus Cyperus of the sedge family Cyperaceae. The plant is native to West Africa, Madagascar and the Arabian Peninsula, but widely distributed throughout the world.

These seeds come with an option of Eco Packaging - Find out more. 


Growing Instructions
Under glass grow in loam-based potting compost in bright filtered light. Water freely in summer and maintain high humidity. Apply a balanced liquid fertiliser monthly.

Can be grown outdoors as a bog or marginal plant.

Propagate by seed at 18 to 21°C in spring in constantly moist seed compost, or anytime if grown inside.

---