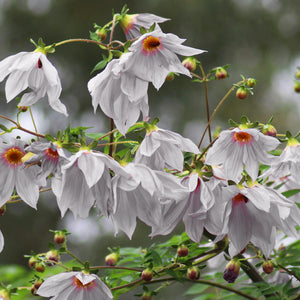 Easy Grow Seeds
Weeping Dahlia Tree Seeds
Regular price
$9.00
$0.00
Unit price
per
Tax included.
Shipping
calculated at checkout.
5 Dahlia seeds. This is a new species that was discovered in the Mexican state of Oaxaca. Its big, white & purple blooms dangle gracefully like silk handkerchiefs! At over 7 inches across, the flowers may be the largest of all naturally-occurring Dahlia species. It is related to the gigantic Dahlia tree, although it doesn't grow quite as large - about 8 feet tall. This is a very hard-to-find plant, and it's rare to find the genuine species for sale.

These seeds come with an option of Eco Packaging - Find out more. 


Growing Instructions
Perennial. All dahlias are easily grown from seed, if treated like tomato seed, i.e. given an early germination and then greenhouse treatment until they can be planted out after the last frosts are over. Many of them will flower the first year. Some may flower the first year but reach their eventual height in subsequent years.

---