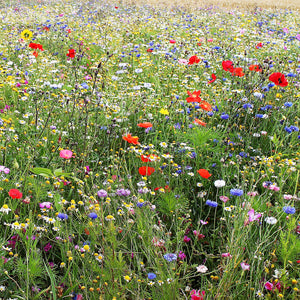 Easy Grow Seeds
Wildflowers Compact Meadow Mixed Wild Flower Seeds
Regular price
$6.00
$0.00
Unit price
per
Tax included.
Shipping
calculated at checkout.
2g Wildflower seeds. Annual flowers in the first year are followed by perennial species from year two. Compact flowers for small places. Contains 16 annuals and 17 perennials. Including Cornflower, Cheiranthus, Pasqueflower, Wallflower, Virginian stock, Cow Soapwort, Leucanthemum, Nigella, Marigold, Soapwort, Yarrow, Coreopsis Iceland poppy and Sweet William.

These seeds come with an option of Eco Packaging - Find out more. 


Growing Instructions
Usually sown from the end of April to the beginning of June (depending upon the location), when the soil is sufficiently warm and moist for the seeds to germinate. Throw to Grow requires significantly less management than bedding plants. Fertilisers and pesticides are not needed and demand is low for water. It is important however to remove weeds when visible.

---